Our training package is designed to prepare you for the DVSA instructor assessment for both the CBT and DAS qualification.
Benefits of the Phoenix training package

flexible training to suit your pace

choose the level of qualification you require

benefit from our years of training experience

comprehensive training with DVSA & BTEC

qualified instructors

All necessary reference materials provided

Local low cost accommodation available locally

Bespoke Lesson Plans and Training Aids
To be eligible, you must be over 21 years of age and have held a full Category A motorcycle license for over 3 years. ( since the new 3rd directive came into force, Someone who passes a cat A2 test at 19 followed by cat A test two years later aged 21 can become an instructor at age 22 once they have held full motorcycle entitlement for three years. Further to this, the instructor must hold the correct category for the training they are providing, cat A2 holders can only provide training for cat A1 and A2 but not A)
The course is designed to teach you how to instruct members of the public to ride motorcycles and scooters in accordance with The Motor Vehicles (Driving Licence) Regulations 1999 and to prepare you for the Driver and Vehicle Standards Agency (DVSA) assessment which on successful completion you will be awarded your certificate to teach.
We will provide you with all the reference books, Instructor notes and lesson plans required for your preparation.
A general overview of the course is as follows: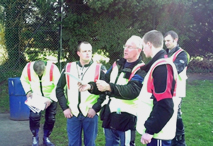 Our instructor training centre has everything your need. You will spend an Intensive seven days at our training centre based at Amesbury Wiltshire. The course will consist of instructional techniques delivering the Compulsory Basic Training Course (CBT) and Direct Access Training (DAS) as laid down by the DVSA, under instruction from your qualified tutors, At the end of the week you will be advised whether you need further training before applying for a DVSA assessment.
Further training
Depending on how well you have progressed you may need further practice before you apply for a DVSA assessment. We can arrange for further training at our mutual convenience so that you are well prepared for the assessment. The length of this further training depends largely on how often you can make yourself available for training.
Once ready, you can arrange at your convenience, to attend the DVSA CBT two day assessment. On successful completion of this assessment you may apply for your DVSA Certified Motorcycle Instructor Certificate for CBT, seek employment with any DVSA approved Training body (ATB) or even start your own ATB. Once you have passed the CBT assessment you may then apply for your DAS assessment, a half day assessment at the DVSA centre.
The Enhanced Course which is ten days in duration also includes Advanced Rider and first aid training.
Costs
We charge an all inclusive £1600.00 for the standard course or £2000.00 for the Enhanced course. Both course fees include any follow up training and DAS training but does not include accommodation. There are no specific examination fees. At present there are no fees charged by the DVSA for the assessments. Individuals will be responsible for overnight accommodation charges. We challenge you to find this level of training at a more competitive price.
The Law & Motorcycle training
The motorcycle training industry is regulated by the Driver and Vehicle Standards Agency (DVSA), and there are strict rules associated with motorcycle training.
The licensing of motorcyclists is also quite a complicated matter with rules relating to the age, name, size and power of motorcycles.
Essentially at present there are three stages of qualification to become a fully qualified motorcycle instructor.
Down trained
Trained and assessed by a qualified instructor and permitted to train at Compulsory Basic Training (CBT) level only within the ATB that trained you.
CBT1
Attend the DVSA centre and pass a rigorous two day assessment. This permits you to train at CBT level and down train other new instructors. This is the minimum qualification to hold an Approved Training Body Status (ATB).
DAS
Once already qualified as a CBT1C (cannot progress directly to DAS) attend DVSA Centre and pass a further half-day assessment. This permits you to train DAS in addition to CBT.