CBT Motorcycle Training Croydon Surrey CBT, DAS, Advanced

Wherever you are going, your riding starts here!

Phoenix Motorcycle Training® is currently the only motorcycle training centre in Croydon providing all levels of instruction from beginners to advanced riding. Phoenix is also the UK's 1st MCIAC Gold Standard Training School, awarded for the highest Quality in Customer Service, Instruction, Equipment, Value for Money and Training Facilities, therefore this means that this is the only place to come for Motorcycle Training.
There are two sites are in the suburbs of New Addington which are ideally suited for both Compulsory Basic Training (CBT), Direct Access Scheme (DAS) and advanced training (Enhanced Rider Scheme), having a mixture of quiet residential roads and open country lanes.
Training is offered on a variety of new machines, including 50cc and 125cc Scooters, a selection of 125cc manual bikes and a brand new fleet of 600 cc Honda bikes suitable for Direct Access Scheme. Full safety equipment is also provided FREE of charge .Both centres have all on site facilities, class room, toilets, free tea and coffee facilities, and large safe approved motorcycle training area capable of training candidates for the CBT and Module 1 test. The sites are 5 minutes' walk from Croydon Tramlink and a number of buses pass nearby. There is also ample parking available next to the training sites.
Full Licence Training is provided 7 days a week and all courses are tailored to your personal requirements and time scales. All DVSA tests are pre booked by us up to 10 weeks ahead so we can guarantee test time slots to suit you.

LOW INTEREST FINANCE now available on all full licence courses. Call for more details.
CBT's available every day of the week as well. Book online and you can see exactly when places are available.
Wherever you are going, your riding starts here!

Limited Offer – CBT's £130 weekdays and £140 weekends and Bank holidays, including safety equipment, waterproofs, bike and insurance

7 days a week - Offer subject to availability
Meet the training team:

Mark Jaffe

Sam St Julian Bown

Darren Brooker




Wynne Pritchard

Stuart Thompson

Contact CROYDON training centre

Mark Jaffe
Office address - Correspondence only

101 Longhurst Road,

Croydon,

Greater London,

CR0 7AZ

Freephone : 0800 6126543

Landline: 020 8819 4231
email: croydon@phoenixmotorcycletraining.co.uk

CROYDON Training sites:

New Addington

Wolsey Junior School

Castle Hill Avenue Entrance

Croydon

CR0 0TF

New Addington

Milne Park Training Area
Milne Park East
Croydon
CR0 0BB


Ruth Jaffe

Administration and bookings

Helen Sorrell

Administration and bookings

Steve Sorrell

Administration and bookings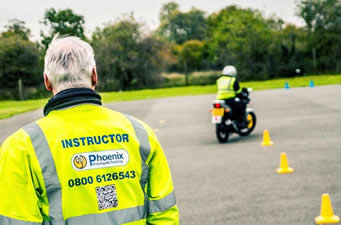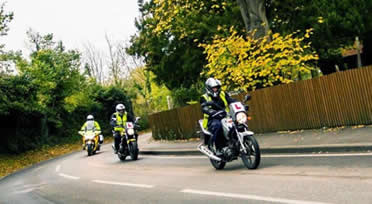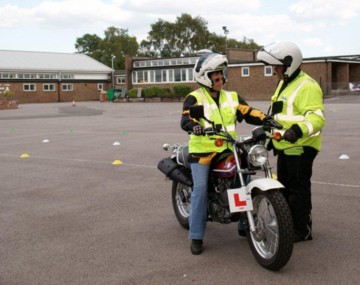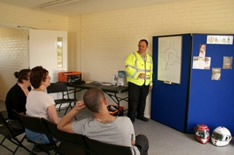 Customer comments
Dear Mark & Dick
Very many thanks for everything I totally underestimated what a lay off of over thirty years would do to my confidence as well as my riding skills, and following a bad experience with a former school I was ready to give up riding altogether but with you endless patience and encouragement I began to love riding again and I cant thank you enough for that.
So today was test day and YES thanks to both you and Dick I PASSED (Yippie) - Dick you guided me through Module 2 training in the freezing cold, you made me laugh and kept telling me I could do it which made be believe I could and I did. Thank you so much.
Mark it has been a pleasure to meet you and Dick and I will recommend your school to anyone.
With best regards Sharon
PS can you please add this to your website as I could not find where to put it.
Good afternoon,
I'd like to thank the Croydon team, specifically Richard, for his
outstanding teaching and their warm welcome on the day of my CBT. The teaching was incredibly informative and professional, with a good dose of personality. I have come away from the day feeling that I know how to be safe on the road and filled with confidence because of it. So once again, thank you for a fantastic experience. I hope to be back again for some more training next Spring.
Please feel free to include any part of this in your website.
All the best, Chris
| | |
| --- | --- |
| Ashley Jarvis ,said very relaxed atmosphere and very professional. many thanks | Ian Jones - Pass first time with only 1 minor fault. Many thanks Mark |


Motorcycle Training
Amesbury
, Wilts

Motorcycle Training
Bognor Regis

Motorcycle Training
Bournemouth
Poole

Motorcycle Training
Bristol
, Avon

Motorcycle Training
Chippenham
, Wilts

Motorcycle Training
Colchester
, Essex

Motorcycle Training
Coulsdon
, Surrey

Motorcycle Training
Croydon
, Surrey

Motorcycle Training
Crystal Palace

Motorcycle Training
Ewell
, Epsom Surrey

Motorcycle Training
Foots Cray
, Kent

Motorcycle Training
Maidstone
, Kent

Motorcycle Training
Portsmouth
, Hants

Motorcycle Training
Southampton
,Hants