Phoenix Motorcycle Training® Bristol
'Raising the Standard' at our Bristol school
Action indoor Sports, Bamfield Road, Whitchurch, Bristol BS14 OXA
Bookings: 0743 654 7888
Phoenix Motorcycle training Bristol, Avon, Wells, North Somerset, Somerset and Mendip offers professional DVSA approved courses for compulsory basic training (CBT), direct access (DAS) together with Back to Biking, Advanced Training and Assessments.
Training is based in Whitchurch, Bristol, Avon at Action Indoor Sports. Ample space for training in addition to a dedicated classroom, on site lunch and refreshment facilities are available.
New CBT bikes for 2017! Kawasaki KLX 125cc bikes with Kawasaki D tracker for those a little shorter! HMC Classic & KLX 125cc bikes in Wells. All DAS training and tests undertaken on Kawasaki Z650 ABS 650cc motorcycles restricted for A2. Peugeot Mopeds both 50cc and 125cc for Auto CBT courses.
We are proud to work with Bristol Kawasaki and use Kawasaki motorcycles, why not visit their webpages: http://www.bristol-kawasaki.co.uk
CBT courses £130.
DAS training £175 per day or to suit at £30/hour.
Advanced and bespoke training available.
Additional motorcycle instructors required. CBT1, DAS qualified preferred, with or without additional advanced qualifications. Own bike, weekends and mid week work available. Email your details to apply.
What to expect from your training day whether a CBT /
DAS or more advanced training.The day will start at
reception where you will be welcomed and shown the
in house facilities., Lunch, tea & coffee and rest room
areas. After signing in you will head to the 'Phoenix
Boardroom' for registration and course briefing.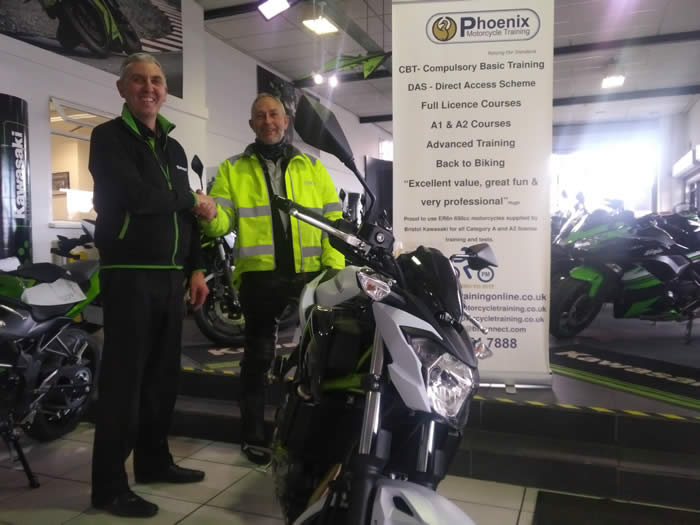 Mike receiving one of the Z650 KRTS bikes from Steve at Kawasaki