Welcome to Phoenix Motorcycle Training West Sussex.
With training centres at Bognor Regis West Sussex, Hilsea Portsmouth, and Holbury Southampton, we can offer rider training at all levels from CBT to Direct access on all sizes of machines from mopeds to 650cc motorcycles. We specialise in Classic Scooter training.

We know our personal approach brings you more than just the technical aspects of learning to ride. We want you to pass your test and fall in love with the joys of riding.

With a limited offer of £95 CBT courses it's no wonder we're a leading trainer on the South Coast. We aim to deliver you a cost effective rider training programme beyond your expectations.

CBT's are available 7 days a week at our Bognor Regis Centres & and 5 days a week (Monday - Friday) in Southampton. CBT's are available weekends at our Portsmouth centre.
Classic Scooter Training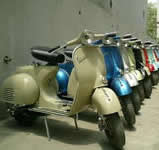 If your starting out on the scooter scene, or wanting to do your CBT on one of our Vespa's or your full test, ( so you can ditch those L plates), then give us a call.

Our classic scooters are regularly serviced by local specialists

Contrary to popular belief you can still take your full test on a classic scooter prividing it meets the current regulations. See using your own machine for more details.

CBT prices held at only £95 - book with a friend or family member for the same day and the deal is £85 each.
Bookings must be made at the same time. No other discounts available with this offer and subject to availability