Ms Holly S Baranski writes :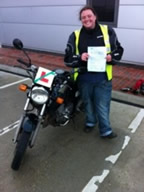 'From start to finish, I was impressed with the training quality and professionalism of both my instructors Brian (DAS) & Johan (CBT). Not having a natural skill or aptitude for biking, I was nervous to say the least. Both instructors made me feel comfortable which really helped boost my confidence on the bike. They were both patient and thorough. I would recommend these instructors and indeed the entire training school to anyone who wants good, high quality training that's honestly priced. Just do it!'
Thank you so much Johan for a excellent days training! I will defini...tely recommend you to others wanting a good quality and reliable motorbike instructor! See you soon for my full test training.
Julian Gomez
Really good training thank you very much, great day.
Sam Reid
Very competent and professional instruction from the super friendly chief captain of Phoenix-Johan
Also a privilege to ride the Yamaha MT07 - many happy hours to look back on