From Michael Chan:
Top quality riding school. Got availability test date always , got
me booked in very urgently. What I like about this school, they
don't force you to pay upfront once you booked . They
understand everyone has financial issues, also he allows me to
pass the theory first then pay (reserve the slot for me). Very
kind and friendly instructor Johen , good riding experience with
him.
Good price
Friendly and experience instructor
Weekend training perfect for working Monday to Friday people
Patient & flexible
Would recommend
From James Pullen:
Very well organised and professional training team went from total non rider to full licence holder without a problem thanks to Johan the instructor couldn't recommend more

From Tony Annetts:
Great guy is Johann ! Instruction is first rate, coupled with his calm demeanour certainly facilitates a positive environment in which to learn to ride safely & confidently.
From Alistair Ross:
What can I say but Thanks, 1 year ago my wife and I did our
CBT courses with a competitor and decided to get some
handling experience in before we did our Mod 1 & 2 training
and tests. Well I'm so glad that Johan was there to pick up the
pieces (wish we had done our CBT with Johan as I feel there
was so much that had been missed) with patience and
understanding Johan really helped us turn things round and
become better, safer and more responsible riders.
With a passion for giving his students a thorough training whilst
keeping it fun and light hearted Johan provides instruction that
makes it an experience that I would readily recommend to
anyone thinking of taking up Motorbiking
From Richie Wellman:
A very professional and well run driving school. The office were exceptionally helpful and the instructors are nothing short of outstanding.
I was instructed by Johan. His calm relaxing demeanour gives you the confidence to ride at your best and not get hung up on mistakes.
From Tom Clarke:
Recently did my CBT and really enjoyed the experience. Johan was a great teacher and despite my nerves he helped me feel in control at all times. Great value for money and will certainly recommend to friends.
Prices are amazing and you really feel like hes with you from
the first time on the bike to the moment you receive your pass
certificate.
You WILL NOT regret using phoenix!
From Carol Odendaal;
A huge Thank you to Johan for his excellent tuition, his calm and professional manner and his extraordinary patience!! I passed my Module 1 and 2 first time around and couldn't be happier. I'm thrilled to have chosen Phoenix as my training school.
Ms Holly S Baranski writes :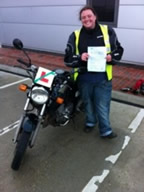 'From start to finish, I was impressed with the training quality and professionalism of both my instructors Brian (DAS) & Johan (CBT). Not having a natural skill or aptitude for biking, I was nervous to say the least. Both instructors made me feel comfortable which really helped boost my confidence on the bike. They were both patient and thorough. I would recommend these instructors and indeed the entire training school to anyone who wants good, high quality training that's honestly priced. Just do it!'
Thank you so much Johan for a excellent days training! I will defini...tely recommend you to others wanting a good quality and reliable motorbike instructor! See you soon for my full test training.
Julian Gomez
Really good training thank you very much, great day.
Sam Reid
Very competent and professional instruction from the super friendly chief captain of Phoenix-Johan
Also a privilege to ride the Yamaha MT07 - many happy hours to look back on